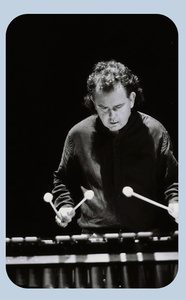 After his classical percussion studies, Bart studied marimba with Robert Van Sice at the Koninklijk Conservatorium Brussels. During his thirty-year experience, Bart was invited by more than sixty orchestras and ensembles. His experience contains a wide variety: Baroque music, symphony, opera, contemporary, jazz, pop… 
Bart had the privilege to play with Mike Mainieri, Trilok Gurtu, Doudou 'nDiayé Rose, Robert Martin (ex Frank Zappa) and felt fortunate to play with the greatest Belgian jazz players in bands like Kris Defoort's Dreamtime and Brussels Jazz Orchestra (with Maria Schneider). Bart did play on several festivals like North Sea Jazz Festival, Blue Note festival, Festival de Marseille, Ars Musica… 
Besides his performing schedule he teaches mallets at the Koninklijk Conservatorium Brussel. As a clinician or jury member, he was invited in conservatories all over Europe, Argentina, South-Korea and Japan.
His books, the bestseller 'Image' 20 Children's Songs for Marimba, 'Profils' 24 essays pour vibraphone et piano, 'Encore' 5 'bis' for mallets, 'Ensemble' 24 pieces for mallet ensemble, 'Imagine' a mental approach to marimba playing (English, French and Spanish), 'Focus' 24 Images for Vibraphone, 'Dialogue' 12 variations for Marimba and 'Move' 12 grooves for Marimba are distributed all over the world.
Bart leads his own quintet and his debut album 'Thank You' is released by De Werf. With the same label he realized a second CD 'Profiles' 24 essais for vibraphone and piano. His third album 'Life Path' (double solo CD) is released by Etcetera. As sideman he recorded over seventy CD's and he realized the first Belgium recording of the Béla Bartók's Sonata for Two Pianos and Two Percussion.
Bart was laureate of the Sabam Contest for Composition for Jazz-themes 2000 and 2002. Bart toured Europe, USA, Argentina, South-Korea and Japan.
Bart plays Yamaha vibraphone and marimba and Resta-Jay mallets.
Photo © www.jantieghem.be